LSH Shipping Container Houses / Shipping Containers Offices
Structural Characteristics
Shipping Container Houses / Shipping Container Office are constructions that usually consist of 1, 2 or more modules to form a complete residential unit, house or office.
In practical terms, this means a mobile, transportable office, residential unit, house(s) made up of module(s).
It is even possible to connect dozens of modules together to form larger facilities, offices, hotels, holiday homes, schools, hospitals. They can be assembled in whatever manner you may choose.
The modular design allows them to be easily and simply extended at any time in the future, in an incredibly short time frame.
The elements are transported to the site, lifted in by crane and can be rapidly put together without any disturbance to neighbouring properties.
The advantages of a Shipping Container House / Office are: Fully-flexible delivery times, Easily extendable, No need to wait months for completion, Wide range of prefabricated types available, Substantially cheaper than a family house, Perfect for both winter and summer, Perfectly insulated against heat and sound, A great investment.
| | Light | Office | Mini suite |
| --- | --- | --- | --- |
| External dimensions (depth x width x height) | 240*600*264 cm | 240*600*264 cm | 240*600*264 cm |
| Internal dimensions (depth x width x height) | 230*590*250 cm | 210*570*240 cm | 210*570*240 cm |
| Galvanized stainless steel structure | X | X | X |
| Side wall insulation | 5 cm EPS | 15 cm EPS | 15 cm EPS |
| Ceiling insulation | 12.5 cm EPS | 17.5 cm EPS | 17.5 cm EPS |
| Weather resistant electrostatic paint – RAL 9002 | X | X | X |
| | Light | Office | Mini suite |
| --- | --- | --- | --- |
| Front door – plastic | X | X | X |
| Windows – plastic, double-glazed | X | X | X |
| Electrical network, with basic light fixtures | X | X | X |
| Plastering, painting | | X | X |
| Electric heating system (Nobo glass heating panels, NOBO OSLO GLASS) | | X | X |
| Partition wall | | | X |
| Shower cubicle with monoblock toilet | | | X |
| Basic water installation – without taps, with 80L water heater | | | X |
| Custom RAL. Colour available at extra charge | X | X | X |
| Prices – Gross, 27% VAT included | 5.500 EUR | 8.980 EUR | 11.500 EUR |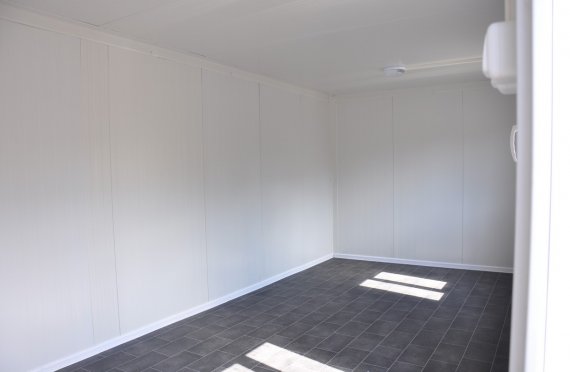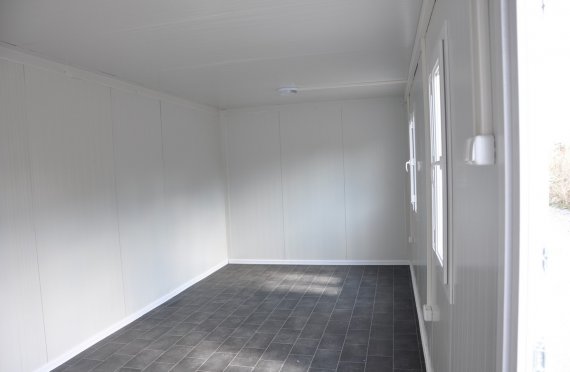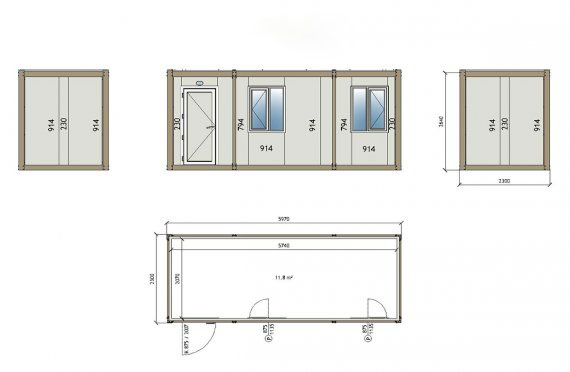 Színezett homlokzati burkolat, 10cm szigeteléssel pluszban: 990 500 Ft
Vörösfenyő homlokzati burkolat: 1 790 000 Ft
2 rtg. műanyag nyílászáró helyett 3 rtg.: 440 000 Ft
Kád felár: 70 000 Ft
Decentraliztált lakásszellőztető: 350 000 Ft
3.5kW hűt-fűtő klíma: 420 000 Ft (Gree Syen)
Külső világítás: 50 000 Ft
Okosotthon előkészítés: 250 000 Ft-tól
| Item name | Price | Comment |
| --- | --- | --- |
| Coloured facade cladding, with 10cm of additional insulation | 2.890 EUR | |
| Red pine façade cladding | 4.900 EUR | |
| Triple glazing instead of double glazing | 1.500 EUR | |
| Extra charge for bathtub | 240 EUR | |
| Decentralised ventilation | 1.100 EUR | |
| 3.5kW cooling-heating air conditioner | 1.290 EUR | Gree Syen |
| Exterior lighting | 210 EUR | |
| Eco-home preparation | from 900 EUR | |